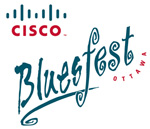 I knew Ottawa's Bluesfest was big, but it seems really big this year: the White Stripes are coming! I never managed to make it to Montreal when they were there, but I never figured they'd be playing here, especially at a festival.
Also exciting: Cat Power, Bob Dylan, George Clinton and the P-Funk All-Stars, Bela Fleck, Buddy Guy, Edie Brickell and the New Bohemians (!), Kanye West, Kid Koala, Leahy, Los Lobos.
Not so much "exciting" as "what?": INXS?!
Plus lots of other performers who I'd probably recognize once I read their bios but that I skimmed over right now.
More details at their website and at Dial 6-1-3, where I found out about this year's lineup.