This has been a weekend of good food.
Last night for dinner we made pizza — a parmesan and romano flatbread with pesto, bosc pear slices, caramelized onions and Brie. Everything was just the right proportion, the pear softened up just enough in the oven, and the pesto was just oily enough to make it taste like oil-dipped bread but without being the least bit greasy.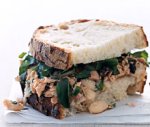 Tonight is tuna-and-bean sandwiches from the ten-minute meals section of this month's Gourmet: a layer of smushed cannellini beans with olive oil, basil and lemon juice, a layer of tuna, Kalamata olives, celery and red onion, and a bit of watercress on fresh ciabatta. Simple and fresh and yummy. The recipe's online here.
Lately I've been trying to learn more about wine. I'm a beer and scotch aficionado already, but I never really knew my way around wine. That's been changing recently — with the encouragement of the Ottawa Citizen's wine columnist Rod Phillips, who not only posts all of his Citizen columns online but who also maintains a mailing list featuring reviews of new releases at the LCBO and Vintages (the former is Ontario's government-run liquor store, and the latter is their venue for high-end products which aren't available in quantities sufficient to stock all LCBO outlets), and with the advice from the Billy's Best Bottles pocket guides to wine available in the LCBO.
Rod and Billy's articles and descriptions are a lot more accessible than a lot of wine writing so I'm starting to get a handle on what's what and what I like, especially with some guidance to get away from the buttery Chardonnays and giant reds that always tend to end up featured. One wine I'd never tried before recently was vinho verde, a light (~9%) and refreshing Portuguese wine. It's a still wine but it's got a touch of effervescense that lightens it up even more. The 2004 Gazela we had was bright and full of green apple, melon and cucumber, and I bet I'm going to be going through a lot of this this summer.
(An interesting aside on the wine-writing side: one of the other big newsletters specifically highlighting LCBO and Vintages releases is Nat Decants, which is very much in the standard wine jargon style. For some reason you're asked to provide your full name, address, phone number, company, job title, and disclose industry affiliations. For some reason I'm not quite sure of I signed up anyhow, providing only name and email address — and then Nat emailed me to ask why I didn't submit the rest, moving me from "slightly uncomfortable" to "thoroughly weirded out". I replied that I didn't know of any reason why she would need it to add me to an email mailing list, and while she signed me up anyhow, reading the newsletter now makes me feel like I'm dealing with a marketing company. Meanwhile, Rod Phillips provides an RSS feed for his articles and runs the winecurrent mailing lists on a standard Mailman install.)